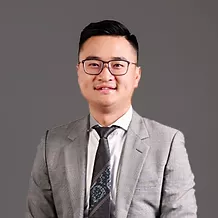 Fisher Yu
Founder & CEO
With over a decade of experience in the marketing and real estate industry, YJPA & Slife is my latest venture into the property market.
With my past experiences in helping businesses increase profits, exceed quotas and manage large customer accounts, YJPA & Slife aims to create a one-stop-shop to serve move client's property investment needs. For the past years, my team and I have sold over 150 properties and reached a sales target of over AU $100 million.
Why YJPA & Slife?
"The best way to fire yourself up is to love your work."
– Inamori Kazuo
With an extensive network in Brisbane's real estate industry, I am building a dedicated team that loves their work. As a team, we're commited to provide the best services across all sectors of the property industry. We strive to create a win-win situation, where both parties derive benefit, in everything that we do.
If you're interested to join a passionate and experienced team, contact us or get started.
May Zhang
Finance & Admin Manager
May is a CPA with 6+ years of multi-faceted accounting experience in investment and manufacturing companies both in Australia and overseas, proficient in all-round financial and property accounting. 
Elsa Liu
Property Manager
Elsa brings with her over 5 years of experience in the hospitality industry and always endeavors to go above and beyond to achieve ideal outcomes. She takes great pride in meeting the needs of both landlords and tenants.
Dr Lavender Shu
Marketing Manager
Lavender is a seasoned cross-cultural marketer and communications professional with almost a decade's experience in the tourism, aviation, and retail industries. She had undertaken various positions in digital communications, PR and marketing research analysis.
See How We Can Make You Money. Short Term, Long Term, AirBNB Management. Get Started Today.